Thomas Dalle is a real oddball. We could even, if we looked for any reference, call him a « dadaist » artist, with his quirky, hybrid, and off-the-wall musical world. A unique artist, and many a times creator of musical shows, unrivalled performances, various and varied artistic events ; composer for theatre and radio ; percussionist (piano included), poet, actor, singer, vocalist, improviser, and artistic trainer.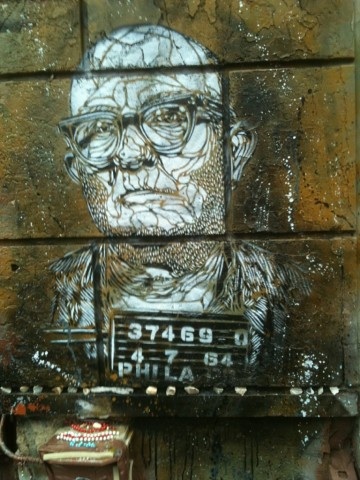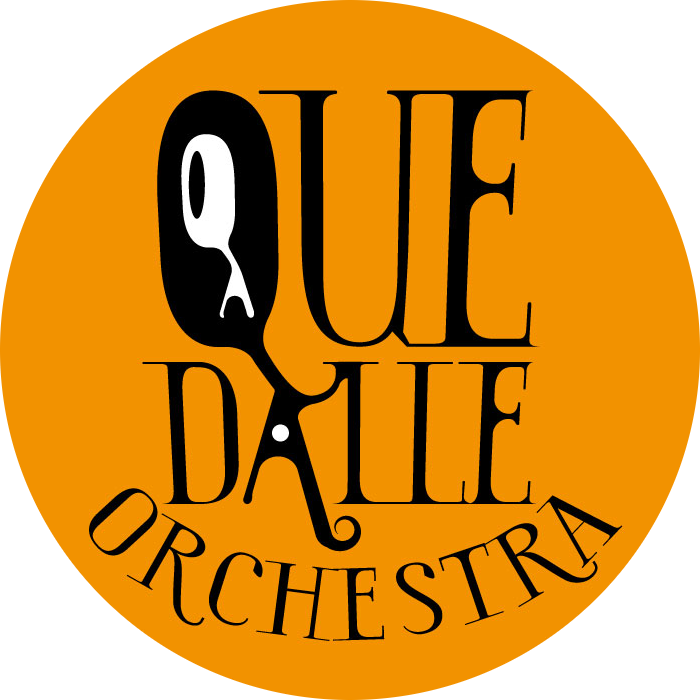 Que Dalle* Orchestra,
a sublime and ridiculous band.
Beyond influences, on pulsating music and dancing words. What's it like ? There's jazz, songs with texts and pretexts, melodies, sound poetry, electronic and acoustic sounds, pop-music with choirs, onomatopoeia, and scat. The Que Dalle* Orchestra (*Que Dalle : play on words and slang for « ziltch » ) is a concert of original music with variable sweeps, from solo to trio, or even in big band mode. It all gets together according to which rare birds link up for a unique concert in this musical show which is improvised every single night. It's called :
« Be humble facing with the banana ! ».
Fils2Pulse
Solo vocal et grosse caisse …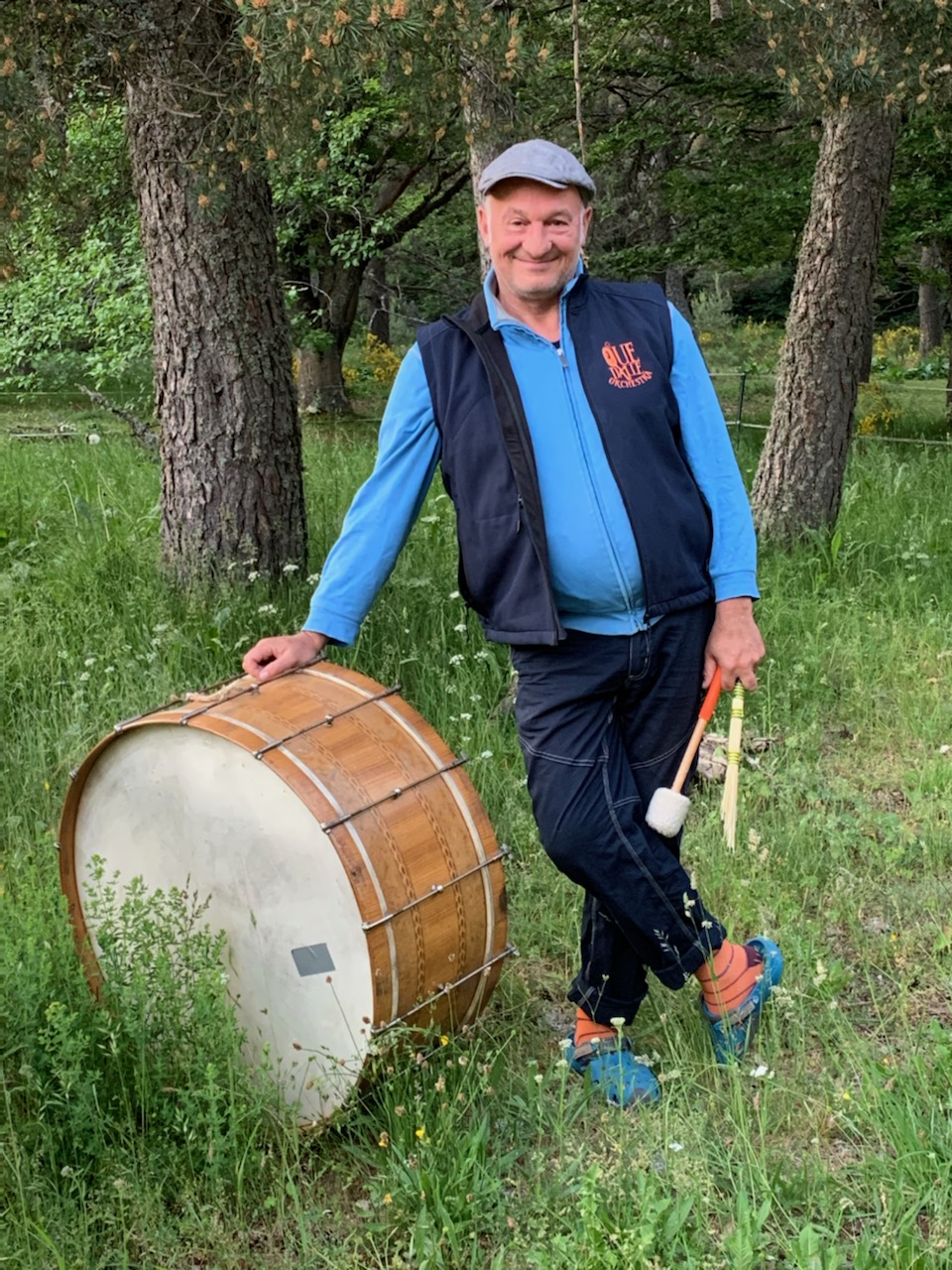 Nietzsche on the Beat ! …

Thanks to Gregory Leroy (Guitar & being the mad man), Olivier Taïeb (Image), Bobby Luccini (Sound) et Laurent Mathias (Technics)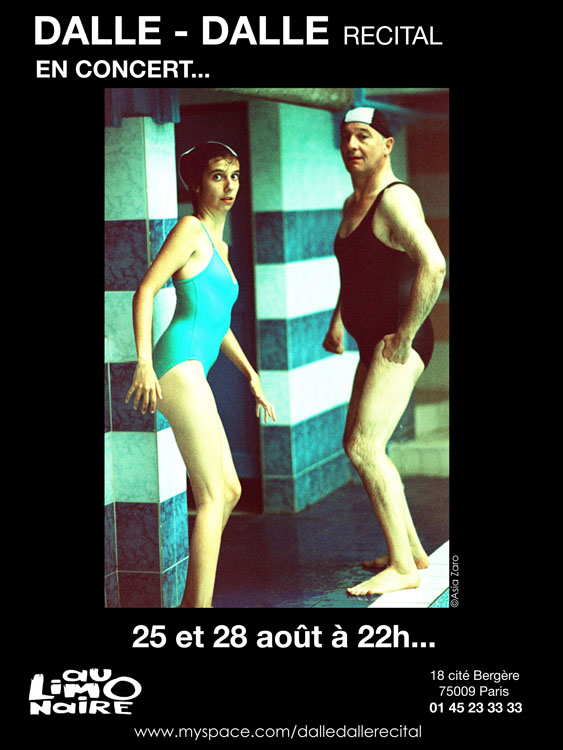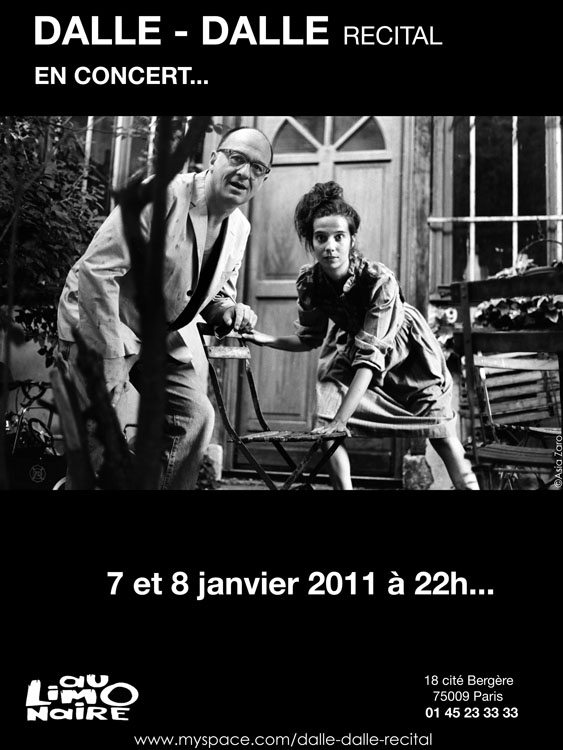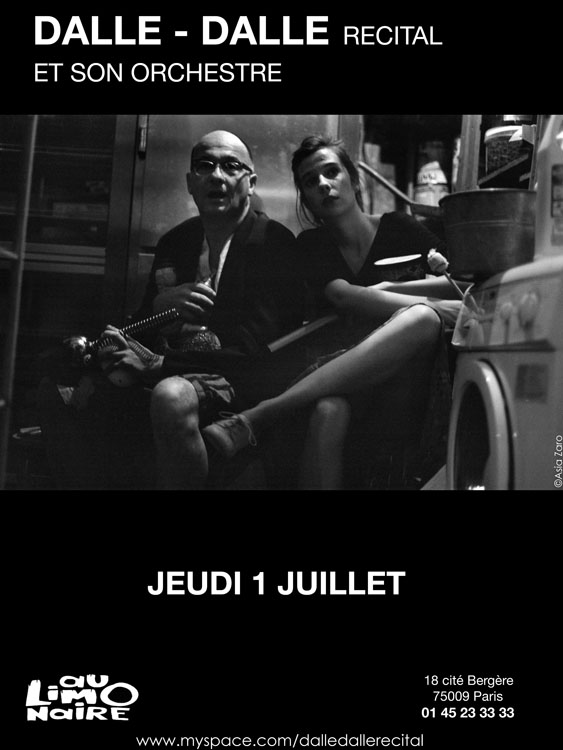 Dalle – Dalle Recital
In the « happy families » game of music-hall, quirky and, unclassifiable artists, Dalle – Dalle Recital was an unlikely and surprising encounter between Jessica Dalle and Thomas Dalle. Draw a card !
Marimba, songs and other bits'n pieces
Distinguishing marks : solo musical show for a percussionist, singer, unusual poet, and marimba virtuoso
(marimba=a large and less annoying xylophone).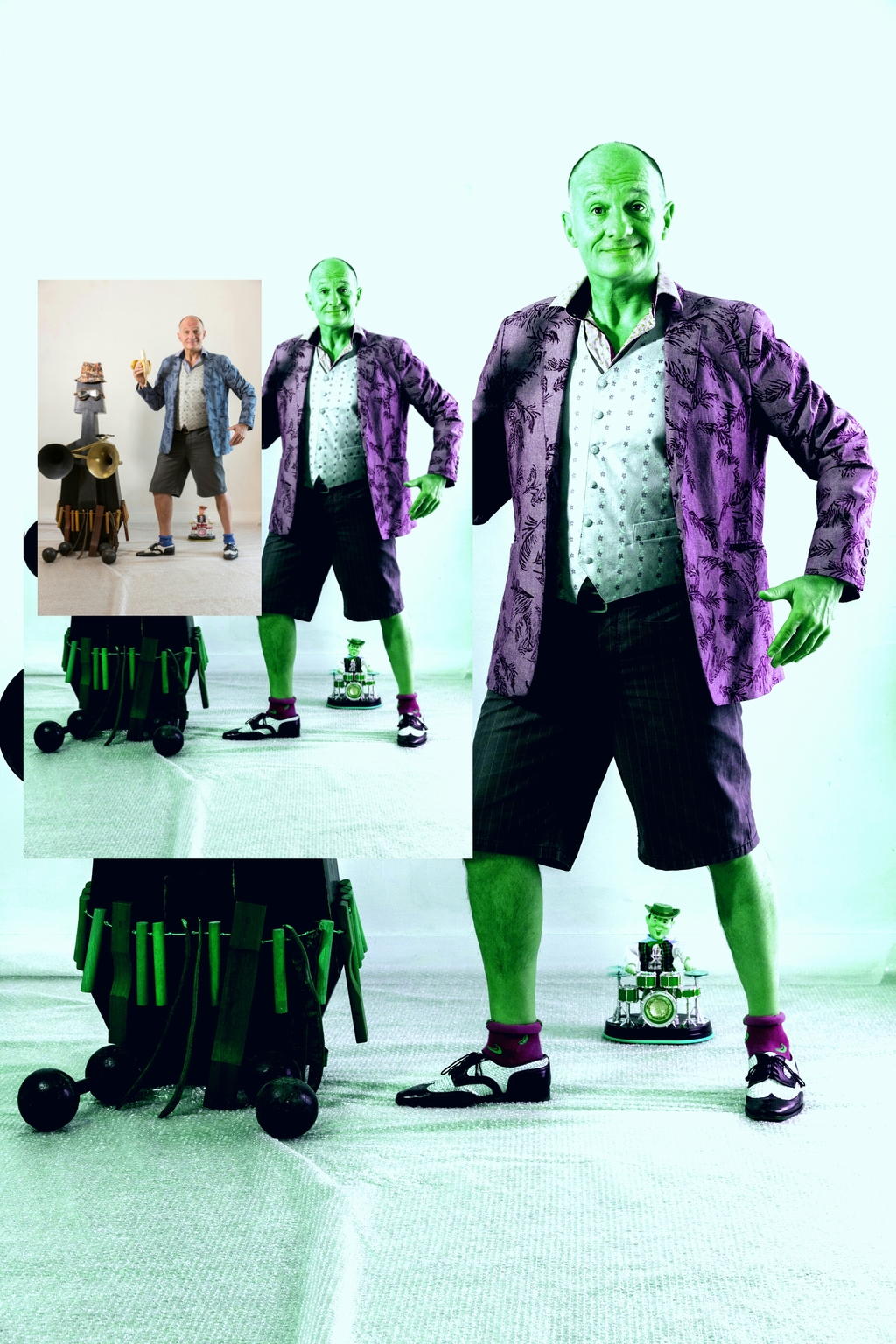 Son of a beat!
Besides his artistic experience, Thomas Dalle is a son of a beat « artistic trainer », who loves to share and pass-on his musical, invigorating, playful and profound art, to all the people out there who're into playing, learning, and practising « music », and vocal impros with him. Any audience, any style, any instrument, any context or structure, Thomas Dalle offers tangible educational courses, adjusted and structured, as private tuition (or groups), or as day workshops, as week-long trainings or year-long programmes, leading to a possible end of year show, according to the artistic project, to the frequency of get-togethers, and to the motivation level of both the participants and/or the structure or the host organisation.
The saucer Grand recital
Thomas Dalle does it with a saucer and resonates in griot mode* (« griot » is a * storyteller and oral historian, singer and poet, in West Africa), as well as solo-teller with this fascinating instrument, the « Hang drum ».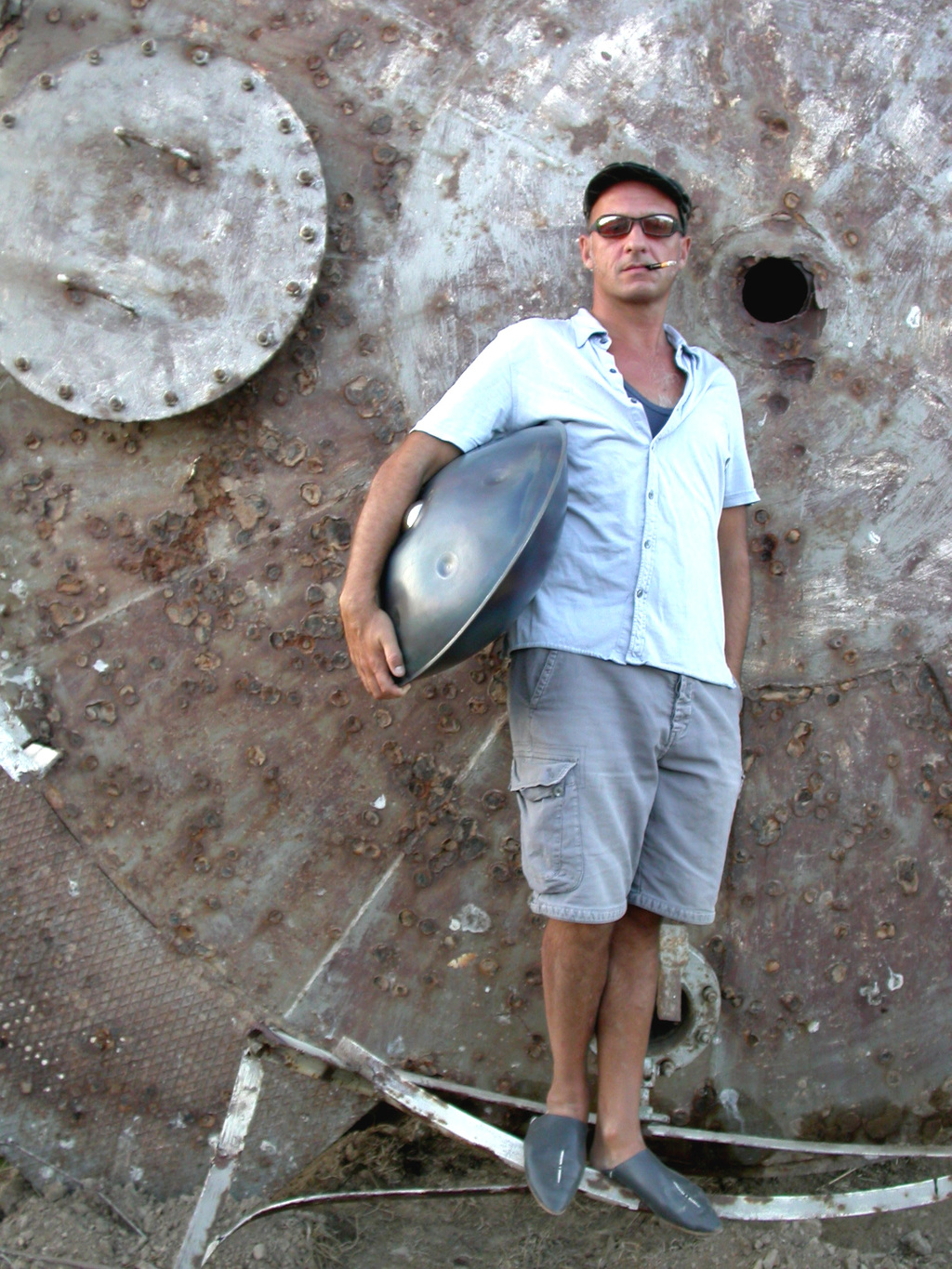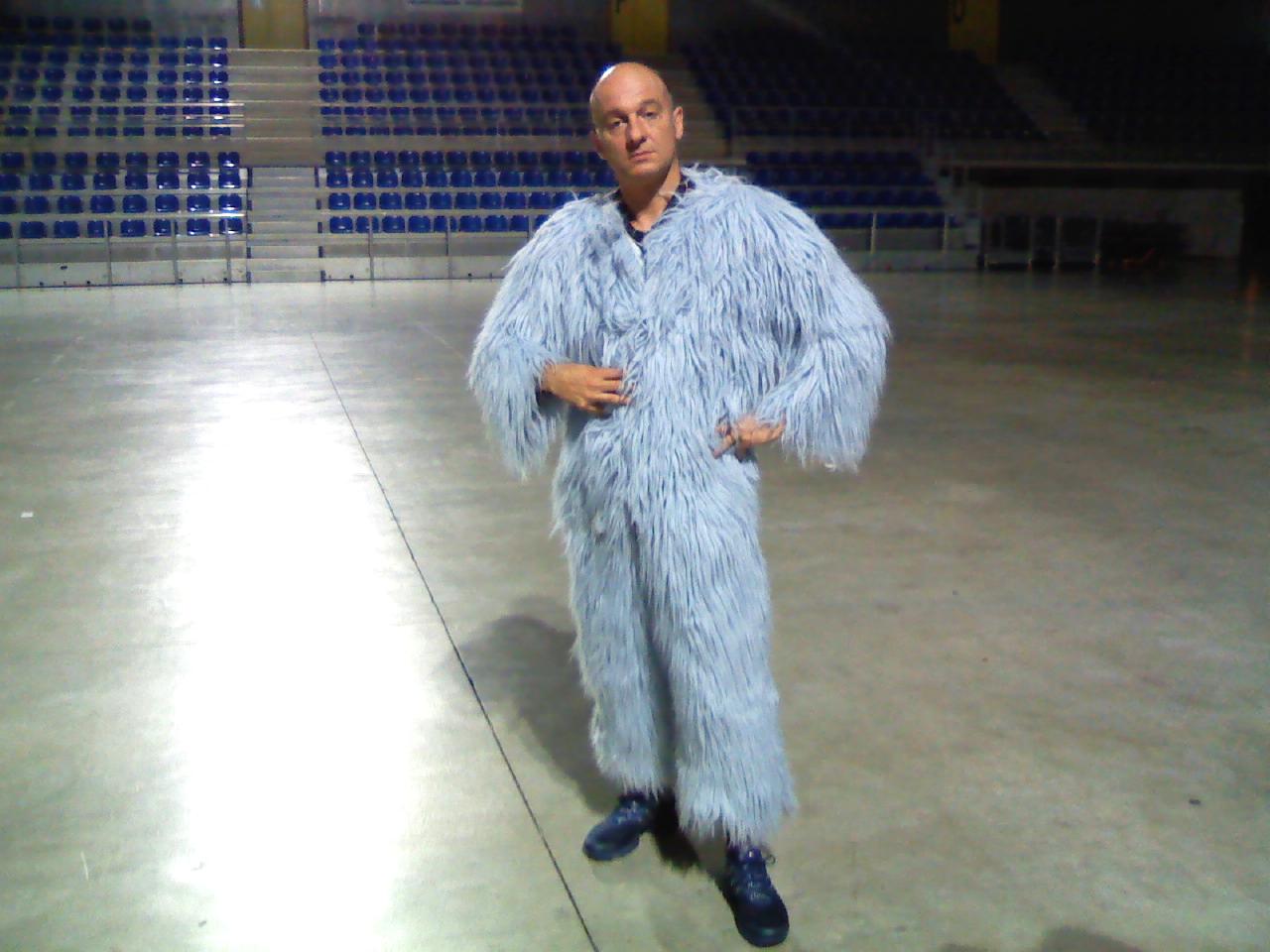 PAD Music
Solo orchestra electronic improvisations with HP15 Roland –
Sampler Boss RC 20 –Voice transformer VT1 Boss.
Live recording on MD in « Home Sweet Studio », Bécon les Bruyières, edited and mixed at, and with, François Bréant's studio, in Champigny sur Seine in 2004.
9 months of base drummin'
« She was an ideal in my prenat' life, she gave me the feel of music. Boom, boom, boom, boom …From these vibrations, such emotions, and there I sang in unison with my umbilical cord »
Music and sound creation by Thomas Dalle and Sophie Cusset.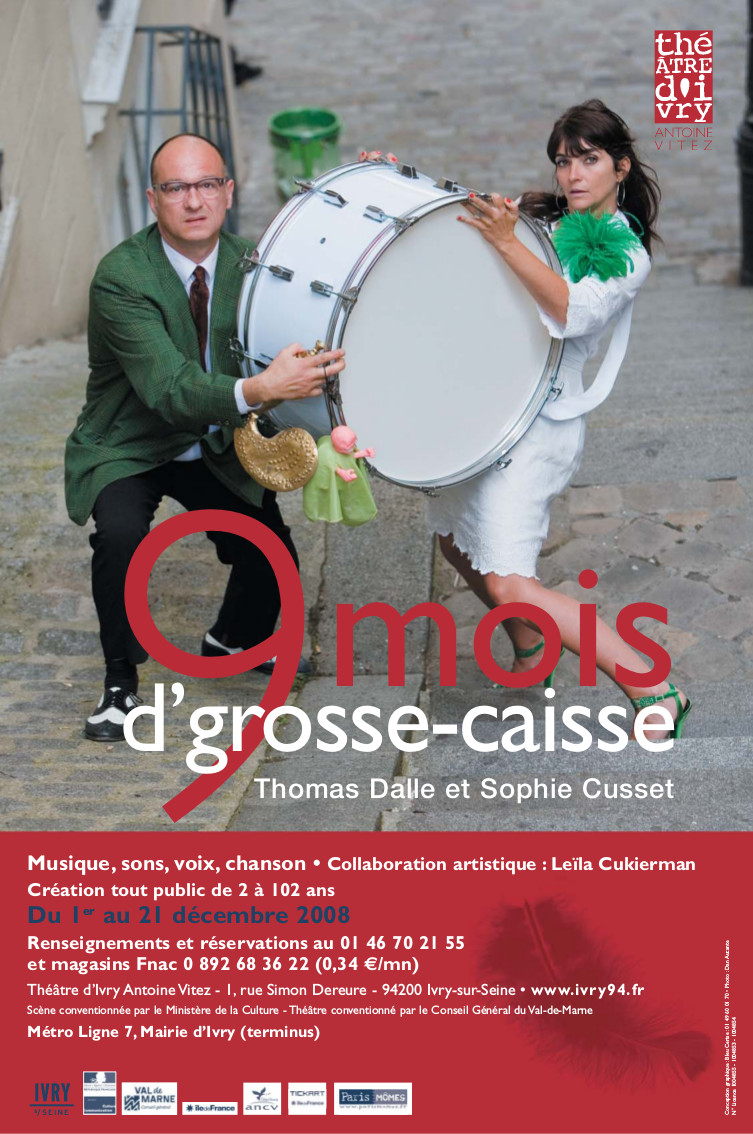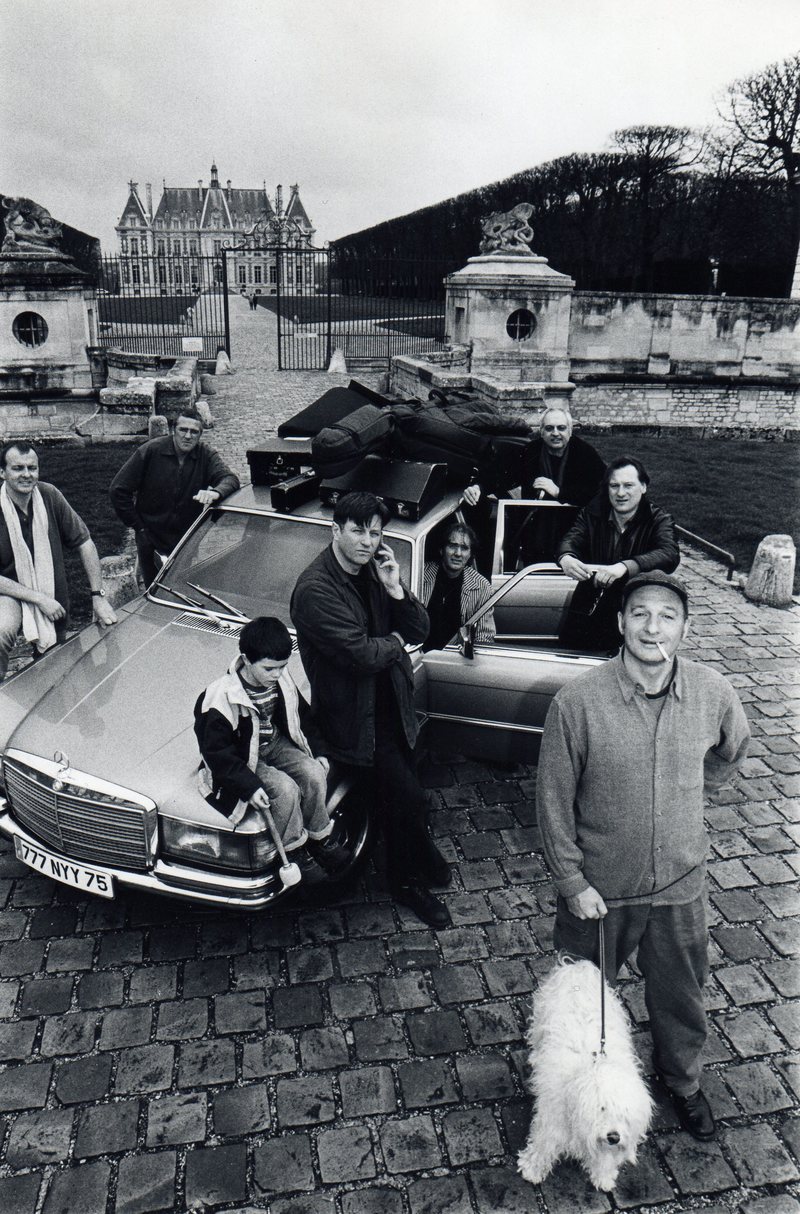 The minions from Bousbecquistan
Ch'Nord* Orchestra seaks conductor !
(*Ch'Nord : means « Up'north » in the local North of France dialect)
Let's suppose Bousbecquistan is set in a fantasy Far North !
All'them musicians, they come from up'North (of France), the North singing in Ch'ti* (*Ch'ti is the dialect from North of France), with beer and thurst for life ! But….them musicians, they're sad, 'cause today they're mourning, « crying in their beer ». They've lost their conductor, their compass, their bearings ! So, you, friend and audience, for tonight's concert, you're invited to get on stage and take the lead and the baton and become the new conductor for spectacular orchestral improvisations, that way they won't be sad any more.
The Bousbecquistan Hymn : « From the cot to coughin' in a coffin ,
one drink, only one drink will remind me of m' Mom, and as blood flowing in my veins, beer gives m'life a taste that's less Bitter »